mike
2022-09-04T06:33:26+00:00
Off the dock or waterfront, there is swimming, lounge furniture, water toys, and a boathouse that has a fridge, storage space, safety equipment, accessories, and water crafts for your use.
Our aluminium canoe is workhorse, albeit a heavy one.  It is a 16 foot canoe and holds two or three people.
Even if you have never tried this quintessential Canadian art form, it is easy to learn. Here's a quick guide from the CBC, and a more detailed illustration of basic strokes is found here.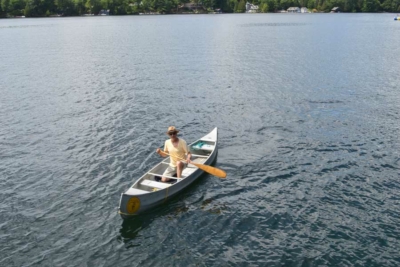 While the canoe is easier to handle with two people in it, the shorter kayak is a great way to explore the lake on your own. The kayak is 12 foot long and it's a one-seater.
Early morning is the best time to explore the shoreline. The hardest part about the kayak is getting in and out – you can learn how, here.
There are two available kayaks, so explore together!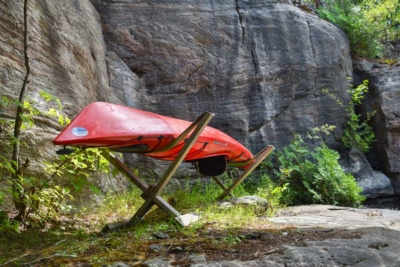 Known as the "Legend", it is a wide-body fishing boat, with a 4 stroke, 9.9 hp Honda engine. It is located outside, on the side of the boathouse.
Boating Tips:
To get the boat started, you will likely need to squeeze the bulb on the gas line
Note that ALL operators of motorized watercrafts require a

Pleasure Craft Operator Card – Boating License,

so please plan ahead
The dock offers privacy in a picturesque Muskoka setting and the perfect spot to watch children play in the shallow water with a sandy bottom. Lake Joseph is the cleanest and most pristine of the three big Muskoka lakes.
Swimming Tips:
For deep water entry: use the ladder off the end of the dock
For shallow entry: it is best to enter the water on the flat rock at the far end of the dock
The rocks are often slippery so wearing water shoes is highly recommended; the rock quickly turns to hard-packed sand so this is a good spot for children
It is also recommended to always swim with a buddy – there is a swimbuddy in the boathouse for your use